The next-generation delivery platform, focused on customer experience
Glow orchestrates all parts of your logistics, into a holistic and easy-to-use system
With Glow you get more satisfied customers and optimized logistics, thanks to an automated route planner and user-friendly driver app. In addition, real-time tracking, precise delivery times and smooth communication with your customers and the recipients allows you to provide a premium end-to-end delivery service.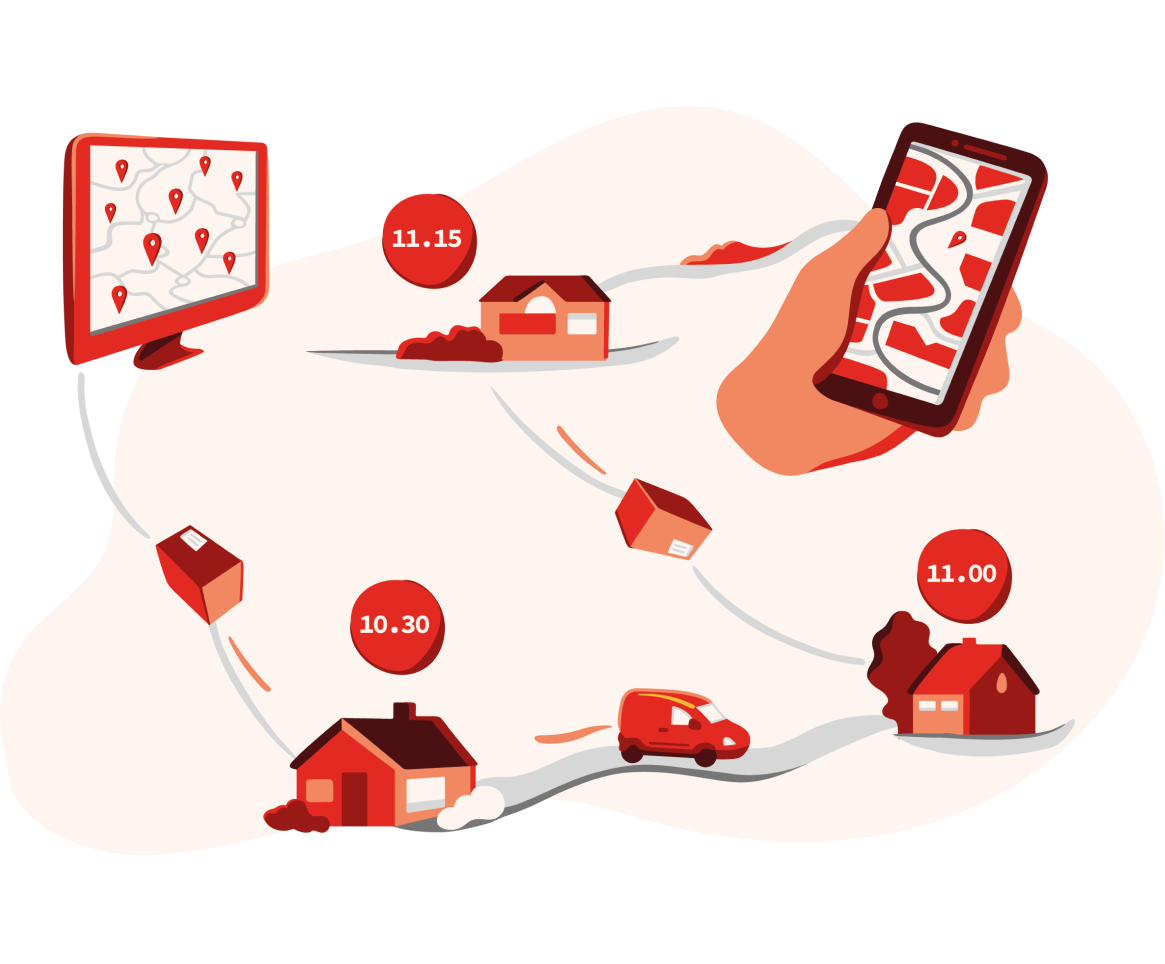 The recipient experience has been our main driver when developing Glow. This has enabled us to create a platform that meets the evergrowing high demands and expectations of today's recipients.
Unlock smarter ways to plan and control your deliveries with Glow's efficient and intelligent automatic route planner, instant dispatcher, live view and reports.
The Driver app makes it easy for your drivers to perform their daily work. The driver receives today's route, scan packages, performs pickups and deliveries, and can send ETA-communication to the recipients.
Strengthen your customer relationships by activating the Customer portal for your customers! The portal offers self-service features like web booking, shipment search, live view and reports.
«Glow is extremely good. Dispatchers are very happy with it, the driver experience has improved and the recipient experience is a game changer.»
Trusted by logistics teams, drivers, customers and recipients in the Nordics
Offer superior experiences to every user
Exceed customers and recipients expectations with features like flexible delivery options, real-time tracking and ETA-communication.


Customize the interface with your own or your
customers branding


Differentiate from your competitors with the Customer portal, where your customers can view live tracking of shipments and book deliveries manually
Increase productivity and secure growth
 Improve efficiency and productivity in your logistics operations


 Handle customer and business growth without staffing


 Get visibility, control and insights at your fingertips
Integrate with ease and rely on stability
 Integrate with ease and rely on stability


 Glow integrates easily with your existing systems


 A cloud based and reliable platform


 With the flexible modules you can use it as your full TMS or a last mile delivery system
Position your company as a sustainable business
 Optimize your routes and reduce your carbon footprint


 Visualize your green initiative


 Get reports that helps you with environmental compliance
With logistics in our DNA, we know what it takes
With logistics in our DNA, we know what it takes
As a large logistics company with long traditions and experience using Glow in our own operations, we know what it takes to make the move to Glow. With our guidance we will help you make the transformation to a fully digital way of working as smooth as possible.
Glow is developed inhouse by Norway Post
Norway Post needed a system that would make it possible to meet the new expectations from recipients and customers, with a strong focus on creating the best recipient experience on the market. The solution? To build the system of our dreams ourselves; now better known as Glow.
We're hiring - come join us!
Do you want to be a part of an exciting journey that will make logistics glow? At Glow, you will experience all the fun from working in a growing and innovative scale-up, with the benefits of being part of a large, solid 350-year-old organization.
Offer world-class communication to your recipients that will take you beyond the competition
Impress your recipients with a unique recipient experience and live communication that meets the high demands and expectations of today's logistic market.